ICS: The Sixteen
Gwasgwch yma i ddarllen y wybodaeth yn Gymraeg / Press here to read this info in Welsh. 
Programme:
 Conductor: Harry Christophers
 William Walton – Make we joy now in this fest 
 Mediaeval carols – There is no rose; Angelus
ad virginem; Make we joy
 Mediaeval carols – Nowell, nowell; Out of your
sleep; Sweet was the song; In Bethlem
 Praetorius/arr. Sandstrom – Lo, how a rose
e'er blooming
 Traditional – The Saviour's Work (The babe in
Bethlem's manger laid)
 James Burton – Balulalow
 Matthew Martin – Adam lay y-bounden
 Cecilia McDowall – Of a Rose
 Elizabeth Poston – Jesus Christ the apple tree
 Anon – The Salutation carol
 Peter Warlock – Corpus Christi carol
 Benjamin Britten – A Ceremony of Carols
 Gustav Holst – This have I done for my true love 
 

A sumptuous feast of traditional texts married to ancient and modern musical settings performed by one of the world's finest choirs working in Britain today. Crowning this seasonal programme is Benjamin Britten's inspirational carol anthology. It's the perfect way to start your Christmas festivities. 
ICS: EXTRAS
PRE-CONCERT TALK: Dr Jonathan James will be joined by Harry Christophers and a selection of the singers to illustrate and discusses the programme.
2pm - 2.30pm | Lefel 1   
One hour before each of our concerts we have a 30-minute insight into the music and the context to the performance. These popular events are accessible and informative and a great way to get more from your concert experience.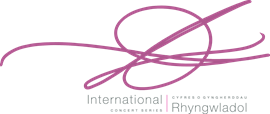 Standard Price
£25.00 all seats

Children Under 16 (Tickets offered subject to availability)

FREE

 with every full price paying adult.  Additional child's ticket - £5.00 each

Friends of St David's Hall | Claimants | Disabled people plus one companion
£19.00
Students (Student ID must be produced on collection of tickets.) & Under 26s
£5.00
Wheelchair user plus one companion (please contact Box Office on 02920 878444)
Stalls seats @ £19.00 each ticket

NB. This concert is not part of the International Concert Series packages.
Plus an optional £1.50 postage fee.
For Hynt tickets, please contact Box Office on 02920 878444. Limited availability – please book early to avoid disappointment.
*Please note, concessions not available on Platinum or introductory tickets.
**Only one discount may apply to each ticket and proof of entitlement is required upon ticket collection. 

Book now